Target B2B leads with Programmatic Ads: – Digital Engagement is key to growth but many B2B Agencies can't see clearly who is already coming to their customer's websites. The ubiquity of digital technologies combined with the lack of reach and target B2B focus of cookie-based solutions are a real challenge. With AccountInsight you can start by clearly identifying and targeting the B2B web leads that visit a website without ever filling in a form.
The figures are clear. Most customers are already more than halfway through their buying process before their initial contact to a company and 90% never respond to cold calling. Accenture Research found that 61% of all B2B transactions now originate online.
If , as an Agency, you want to turn accelerate your customer's digital transformation, you need to make sure you move website visitors into leads. AccountInsight provides you with the targeting – B2B display advertising platform to identify which key accounts are coming to any given website and puts at your finger tips the ability to retarget  key companies on digital media.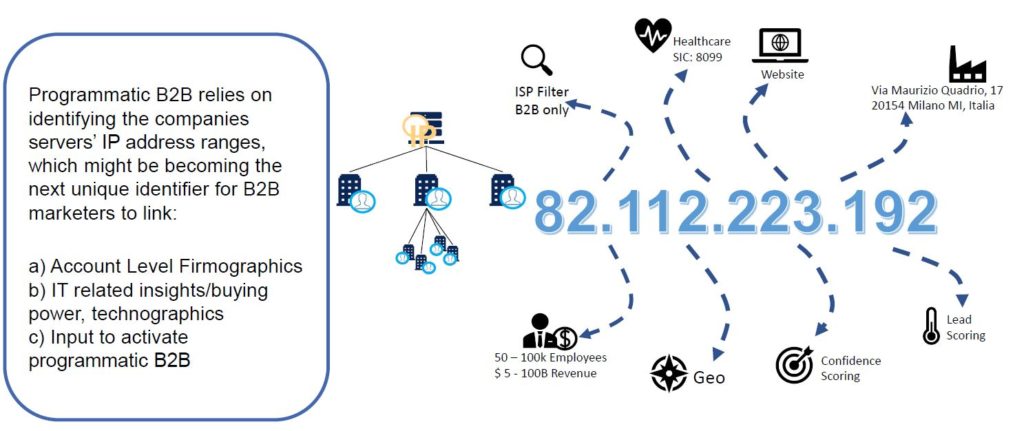 Why should you consider AccountInsight
The only reverse IP platform aimed at profiling enterprise visits. Why is that? Most platforms are aimed at companies with transactional sales. In this context, it is all about knowing the names on as many companies as possible. AccountInsight is not just about volumes but about accuracy. Knowing that you have a visitor from Siemens will not get you very far unless you know the country/branch /subsidiary.
Fully GDPR compliant as only tracks and records company based information, not personal data.
Easy Programmatic ads activation. Activate a company on Account-Based Advertising within seconds.
Detailed information at account level: impressions, clicks, media in place where the banners are seen.
Log in to the platform anytime to see details about all your visitors.